Animation Plugins - Text Effects #4
Shockingly cool animated text






For Windows XP, Vista, Windows 7, Windows 8, Windows 8.1, Windows 10 and Windows 11.
Own the night, rule the universe, wear expensive sneakers — whatever you do, make sure everyone notices your web page with animated headlines that are cool enough to crystallize liquid helium.
The Text Effects #4 plugin offers 21 high-quality text effects that will work with any alphabetic TrueType font in your system. Sophisticated antialiasing and full typographic controls make this plugin rock. Decidedly more radical than the earlier Text Effects plugins, it will turn your words into creatures of imagination and myth that would have been illegal in eighteen states a few years back.
The Text Effects #4 plugin's available effects include Background Hyperspace, Background Iris, Cubist, Breaker, Elastic, Event Horizon, Fuse, Gumdrops, Hyperspace, Iris, Laser, Nebula, Phasers on Stun, Pinch, Pulse, Ripple, Radar, Singularity, Vortex and White Noise. The Simple effect from the Text Effects #2 plugin is also included.
Open the Text Effects #4 demonstration window for some examples of what this plugin can do. Depending on your network connection, it might take a minute or two for all the examples to load and begin animating correctly.
This plugin can be installed in GIF Construction Set Professional 15 and PNG MNG Construction Set 15.
Full alpha-channel support is available when this plugin is used to create true-color graphics.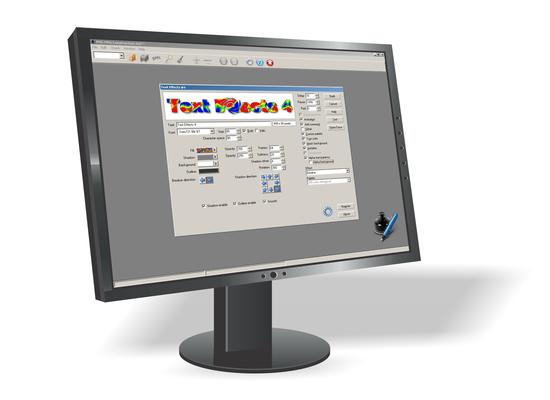 Should you wish to contact us about this application, please send us some e-mail.
THE TEXT EFFECTS 4 PLUGIN COSTS
$19.99
Download
You can ensure yourself of a problem-free installation by reviewing our downloading and installation instructions. Downloadable installers can be used to install either an evaluation copy or a fully-functional registered copy of Alchemy Mindworks' applications.

Unknown Publisher Warning: You might see a warning during download or installation of our software to the effect that the publisher of these products could not be verified. We invite you to read a more detailed explanation of these messages. They can safely be ignored or disabled.
Smart Screen Warning: You might encounter a large blue window when you run one of our installers to the effect that Windows Protected your PC, and that the "app" in question is unrecognized. You can safely ignore this — click on More Info and proceed to install the software. Please read the Smart Screen notice for more about this, and for assistance with disabling this feature.
Norton Antivirus: If you're running Norton Antivirus, please read the WS.Reputation notice before you download an installer from this page.
Downloading: Note that you'll probably need to actually click on one of the following DOWNLOAD buttons to download an installer, rather than copying and pasting its link, or using it with a third-party download manager.
The DOWNLOAD UK button points to our server in Great Britain. If you're outside North America — or if you're encountering issues downloading from our primary servers — please try the one in the UK.
Several web browsers have removed support for FTP downloads — that would be the DOWNLOAD FTP button below. If you click on DOWNLOAD FTP and nothing useful happens, yours is one of them.
If you encounter a problem downloading one of our installers, we're here to help — please contact us and let us know what happened.
Installing: Be sure you're logged into your system as a normal user, not as Administrator, when you install and subsequently run this software.
---
Click on one of the following links to download Text Effects #4 Plugin 15.0a revision 2. This file is 13,428,224 bytes in length.

If you have previously registered GIF Construction Set Professional 12 or PNG MNG Construction Set 12 and you need to download the final release of this plugin to reinstall your software, please contact us for a download link. Be sure to include your GIF Construction Set Professional 12 or PNG MNG Construction Set 12 registration name and key.
Alchemy Mindworks' applications won't install spyware, malware or other invasions of your privacy, and we're extremely careful about virus scans. Learn more about the security of our downloaded installers.
The monitor graphic is used under license from DryIcons.