Animation Plugins - Buttons #2
Sophisticated clickable buttons






For Windows XP, Vista, Windows 7, Windows 8, Windows 8.1 and Windows 10.
Make your web pages sparkle, your PowerPoint presentations dance and your e-mail reach through your monitor and grasp your recipients by their collars, shaking them vigorously to make sure you have their complete attention. The Buttons #2 plugin will give you access to graphic buttons hitherto only available to page designers with high-end graphic software and at least four years of their lives lost to design courses.
The Buttons #2 plugin features sixteen extreme button styles, each one infinitely configurable to create graphics that stand out like a laser with brand new batteries. Plug it in now and it will be filling your personal universe with superb button graphics by tea time, even if you don't like tea.
Build buttons that people will click on just for the rush.
Open the Buttons #2 demonstration window for some examples of what this plugin can create for you. Depending on your network connection, it might take a minute or two for all the examples to load and begin animating correctly.
This plugin can be installed in GIF Construction Set Professional 10 and PNG MNG Construction Set 10.
Full alpha-channel support is available when this plugin is used to create true-color graphics.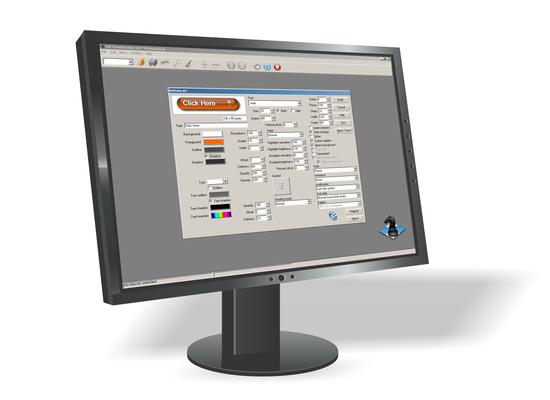 Should you wish to contact us about this application, please send us some e-mail.
THE BUTTONS 2 PLUGIN COSTS
$19.99
Download
You can ensure yourself of a problem-free installation by reviewing our downloading and installation instructions. Downloadable installers can be used to install either an evaluation copy or a fully-functional registered copy of Alchemy Mindworks' applications.
Important: You might see a warning during download or installation of these installers concerning possible "malicious code." These messages are generated by Windows if you attempt to download and install most non-Microsoft software. They can be safely ignored.
Norton Antivirus: If you're running Norton Antivirus, please read the WS.Reputation notice before you download an installer from this page.
Internet Explorer and Edge: If you're using Internet Explorer or Edge as your web browser, please read the Smart Screen notice before you download an installer from this page.
Downloading: Note that you'll probably need to actually click on one of the following DOWNLOAD buttons to download an installer, rather than copying and pasting its link, or using it with a third-party download manager.
The last DOWNLOAD button — DOWNLOAD 2 or DOWNLOAD 3, depending on where you're located — points to our server in Great Britain. If you're outside North America — or if you're encountering issues downloading from our primary servers — please try the one in the UK.
If you encounter a problem downloading one of our installers, we're here to help — please contact us and let us know what happened.
Installing: Be sure you're logged into your system as a normal user, not as Administrator, when you install and subsequently run this software.
---
Click on one of the following links to download Buttons #2 Plugin 10.0a revision 1. This file is 3,275,776 bytes in length.

If you have previously registered GIF Construction Set Professional 9 or PNG MNG Construction Set 9 and you need to download the final release of this plugin to reinstall your software, please contact us for a download link. Be sure to include your GIF Construction Set Professional 9 or PNG MNG Construction Set 9 registration name and key.
Alchemy Mindworks' applications won't install spyware, malware or other invasions of your privacy, and we're extremely careful about virus scans. Learn more about the security of our downloaded installers.
The monitor graphic is used under license from DryIcons.