Presentation Wizard
Effortless multimedia Windows applications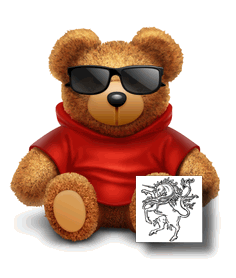 For Windows XP, Vista, Windows 7, Windows 8, Windows 8.1, Windows 10 and Windows 11.
Create professional interactive multimedia Windows applications with your graphics, music, video and other content... even if your only computer programming experience to date has involved an eight-pound hammer and a chainsaw.
No knowledge of Windows or other nasty digital stuff is required.
Presentation Wizard will assemble:
Interactive photograph albums — its Photo Album Wizard can create them in seconds.
Slide shows.
Digital portfolios that are way too cool to ignore.
Electronic books and brochures — add formatted, scrollable paragraph text.
Clickable catalogs. Paper catalogs can't talk — electronic catalogs can.
Instant electronic greeting cards.
Splash screens.
Custom Windows applications — replace days of costly programming with a few clicks.
Multimedia presentations that include music, sounds, video, animations and still graphics.
...and just about anything else you can think of that will fit in a window. Unlike other presentation packages, Presentation Wizard's document files are entirely self-displaying. It creates Windows EXE application files which can subsequently be viewed without any additional software.
Presentation Wizard's presentations can be e-mailed, downloaded from a web server, distributed on disk or CD-ROM and generally passed around without worrying about their eventual recipients having specific viewing software installed on their systems. Any computer running a current version of Windows will be able to open a Presentation Wizard document.
This software is available for electronic delivery and on DVD-ROM.
Presentation Wizard's Features Include:
Build quick electronic slide shows.
Design electronic books that include pictures, sounds, video and interactive elements.
Write your own clickable advertisements, to distribute alone or with other products.
Assemble a distributable portfolio of your artwork.
Include graphics, animations and text fetched from your web server in your presentations.
Distribute your presentations with no viewers, run-times or DLLs to lose.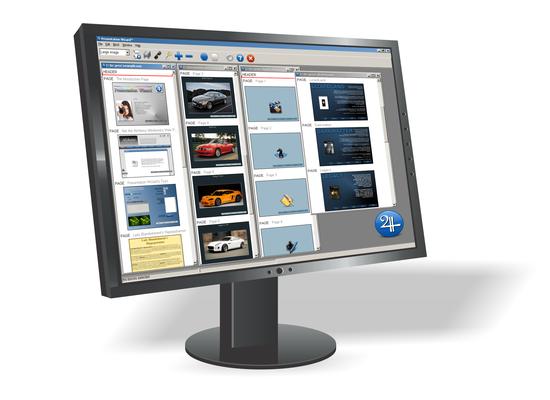 A Presentation Wizard presentation can be thought of as being analogous to a very intuitive book. Each page of the book can include pictures, animations, video, sounds and Windows controls such as buttons and list boxes. The pages can turn themselves or wait for their users to click on Next. Unlike the pages of a traditional book, they can talk to their readers if you like.
We suggest that you give the readers of your presentations a bit of warning should you have the pages you create talk unexpectedly — especially if some of them have weak hearts.
Whether you'd like to be able to e-mail an electronic photograph album to your relatives, distribute advertisements with a shippable product, allow users of your web page to download a multimedia catalog, show prospective clients samples of your work or assemble books that would have sent Johannes Gutenberg screaming from his workshop, wondering desperately if wasn't too late to invent the paperclip instead, Presentation Wizard will transform your ideas into a complete, professional Windows application.
Should you wish to contact us about this application, please send us some e-mail.
IMPORTANT: Presentation Wizard requires access to the Internet to validate itself after installation. Please see the discussion of registration key security for a detailed discussion of this functionality.
PRESENTATION WIZARD COSTS
$34.99
Download
You can ensure yourself of a problem-free installation by reviewing our downloading and installation instructions. Downloadable installers can be used to install either an evaluation copy or a fully-functional registered copy of Alchemy Mindworks' applications.

Unknown Publisher Warning: You might see a warning during download or installation of our software to the effect that the publisher of these products could not be verified. We invite you to read a more detailed explanation of these messages. They can safely be ignored or disabled.
Smart Screen Warning: You might encounter a large blue window when you run one of our installers to the effect that Windows Protected your PC, and that the "app" in question is unrecognized. You can safely ignore this — click on More Info and proceed to install the software. Please read the Smart Screen notice for more about this, and for assistance with disabling this feature.
Norton Antivirus: If you're running Norton Antivirus, please read the WS.Reputation notice before you download an installer from this page.
Downloading: Note that you'll probably need to actually click on one of the following DOWNLOAD buttons to download an installer, rather than copying and pasting its link, or using it with a third-party download manager.
The DOWNLOAD UK button points to our server in Great Britain. If you're outside North America — or if you're encountering issues downloading from our primary servers — please try the one in the UK.
Several web browsers have removed support for FTP downloads — that would be the DOWNLOAD FTP button below. If you click on DOWNLOAD FTP and nothing useful happens, yours is one of them.
If you encounter a problem downloading one of our installers, we're here to help — please contact us and let us know what happened.
Installing: Be sure you're logged into your system as a normal user, not as Administrator, when you install and subsequently run this software.
---
Presentation Wizard is available in 32- and 64-bit editions. The 64-bit edition is supported by 64-bit Windows 10 and 11. The 32-bit edition will run under any version of Windows right back to Windows XP.
Click on one of the following links to download Presentation Wizard 64-bit 14.0a revision 3. This file is 37,036,544 bytes in length.
Click on one of the following links to download Presentation Wizard 32-bit 14.0a revision 3. This file is 38,087,680 bytes in length.
The downloadable installer for Presentation Wizard includes an example presentation that illustrates some of its coolest features.
Alchemy Mindworks' applications won't install spyware, malware or other invasions of your privacy, and we're extremely careful about virus scans. Learn more about the security of our downloaded installers.
---
As of this writing, if you have previously registered or upgraded to Presentation Wizard 12, you can still upgrade to Presentation Wizard 14 for half price. We are able to provide some limited support for the version 12 software, but it's becoming increasingly vulnerable to changes in Windows and some third-party security products.
If you have previously registered Presentation Wizard 12 and you need to download the final release to reinstall your software, please contact us for a download link. Be sure to include your Presentation Wizard 12 registration name and key.
Presentation Wizard 2 through 11 have reached their ends-of-life, and they have been removed from distribution. We no longer have replacement installers for these products. We are able to provide replacement registration keys and limited support for Presentation Wizard 11. We recommend that you register Presentation Wizard 14.
Please be sure to review the terms and conditions for distributing Presentation Wizard's documents. There's nothing particularly ominous therein, but the lawyers would have screamed loudly enough to have been heard in Patagonia if we hadn't included them.
Presentation Wizard™ is a trademark of Alchemy Mindworks Corporation.
The monitor graphic is used under license from DryIcons.